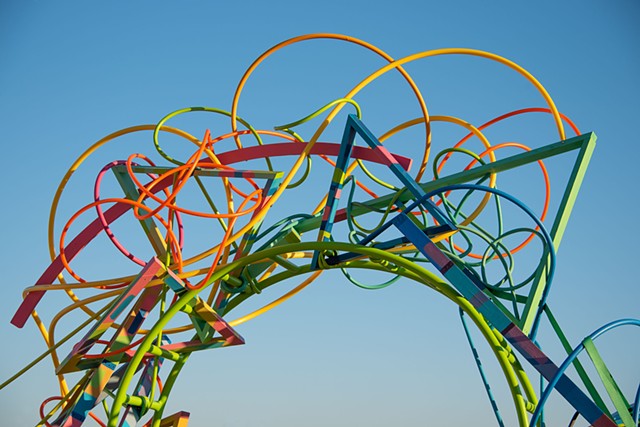 Exhibition documentation available for Maybe Never solo exhibition at the Hyde Park Art Center in Chicago.
I Found U international artist collective exhibiting in Lo cierto es lo incierto
in Mercedes, Uruguay, at the Museo Alejando Berro
Triangle Bench is in the permanent collection at the South Bend Museum of Art
Visit the Sculpture Corridor in the Century Center
120 Doctor M.L.K. Jr. Blvd, South Bend, IN 46601
Heather Brammeier is a sculptor, painter, and installation artist whose work continues the function of childhood play into adulthood. Through innovative use of materials and deceptively simple design, Brammeier creates visual puzzles that invite movement in and around the artwork. The artwork tests physical and perceptual boundaries, mirroring emotional and psychological limits. Vertiginous stacking, attention to surfaces, and the use of light and shadow elicit contemplation of safety and threat, love and loss, and the complexity of emotional experience.
Curator Alice Gray Stites recently selected Brammeier for Furies, Fairies, Visionaries at Pen and Brush gallery in New York. Brammeier's most recent award was Best in Show at the South Bend Museum of Art Biennial 29, selected by juror Miranda Lash. Brammeier won first prize in the 2015 Rooftop Project Space Competition at Lillstreet Art Center (Chicago, IL). The Urban Institute of Contemporary Art (Grand Rapids, MI) selected Brammeier as a featured artist for their ArtPrize 7 exhibition SENSE. Brammeier's large outdoor installation was subsequently recognized with an honorable mention in Dave Bown Project's 11th Semiannual Competition. Brammeier has been selected for a variety of residency programs across the country and internationally, including Yaddo (NY), Spiro Arts (UT), The Hambidge Center (GA), The Banff Centre (Alberta, Canada), and Pontlevoy Creative Residencies (France). Brammeier is a Professor of Art at Bradley University in Peoria, Illinois.